Teeth Whitening – Crown Point & Whiting, IN
Get the Sparkling Smile You Deserve
Nobody wants a yellow, brown, or gray tint to their pearly whites. Unfortunately, tooth discoloration is both a natural part of life as well as the result of a variety of factors, making it an overwhelmingly common problem. At Berquist Family Dentistry, we can help you get the sparkling smile you deserve quickly and conveniently with teeth whitening in Whiting and Crown Point. Unlike store-bought teeth whiteners, our personalized treatments use high-quality materials for safe, fast, and dramatic results. Read on to learn more about your teeth whitening options and give us a call to schedule your consultation today!
Types of Tooth Stains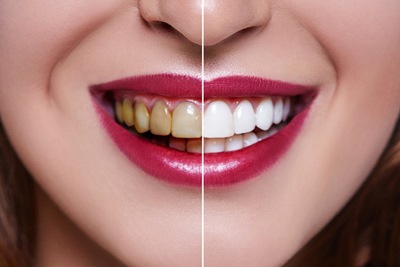 Generally speaking, there are two types of stains that can develop on your pearly whites: intrinsic and extrinsic.
Extrinsic stains cause discoloration on the surface layers of your enamel. This type of discoloration is typically the result of eating and drinking dark-colored foods and beverages, smoking or chewing tobacco products, or other unhealthy habits that lead to enamel erosion. Extrinsic stains can oftentimes be removed with regular brushing and whitening toothpastes. However, significant extrinsic stains are best removed with the help of professional whitening treatments.
Intrinsic stains are much more severe than extrinsic stains. This uncommon type of discoloration can be caused by serious dental trauma, overexposure to fluoride in childhood, or overuse of certain antibiotics. While these stains are usually seen as more difficult to remove, professional teeth whitening may be able to clean away this type of stubborn, deep-seated discoloration.
In-Office Whitening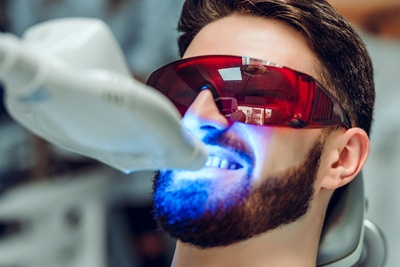 If you're interested in achieving a gleaming smile right away, an in-office teeth whitening treatment might be right for you. In as little as a single hour-long appointment, we can brighten the color of your teeth by six to ten shades! For this simple procedure, we'll apply a professional-grade whitening gel onto your teeth and shine a special light on it to speed up the whitening process. We'll repeat this pattern a few times until we've achieved the gleaming results you're looking for.
At-Home Whitening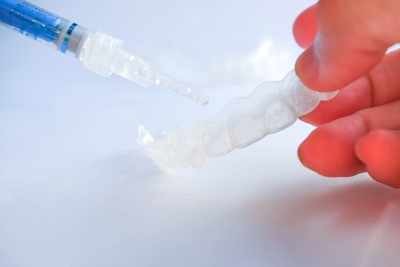 For patients who want a more gradual approach to teeth whitening or who have sensitive teeth, a professional at-home whitening kit may be the better choice. For this method, you'll wear customized trays filled with a personalized dosage of whitening gel for about 30 minutes every day. After about two weeks, your smile will be about as bright as if you had it whitened in-office.
The Benefits of Teeth Whitening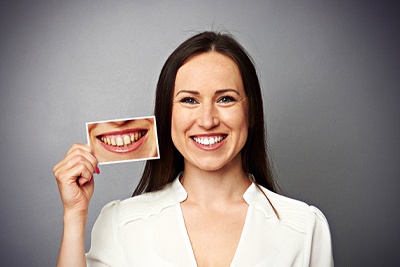 Getting a beautiful smile with professional teeth whitening in Crown Point and Whiting offers several benefits, like:
Safer, more effective, and more reliable results than those of store-bought whiteners.
Completely personalized treatment that ensures your comfort.
A quick and easy way to achieve long-lasting results.
A boost in confidence knowing that your smile looks and feels its best.
Ready to see which teeth whitening treatment is right for you? Give us a call today to start your journey towards a brighter smile!
Learn More