Dentures – Crown Point & Whiting, IN
We Can Help Rebuild Your Smile
Modern dentistry has come a long way over the years. These days, there are countless treatments available that allow you to retain your natural set of pearly whites for as long as possible. Still, despite these options, sometimes your teeth need to be extracted and replaced. Thankfully, today's dentures look and feel much more natural than the dentures your grandparents might have worn. At Berquist Family Dentistry, we can help rebuild your smile with a set of dentures in Crown Point. These restorations can leave you with a fuller, more confident grin that can last for years to come.
Why Should I Replace My Missing Teeth?
As a rule of thumb, the more teeth you lose, the more your oral and overall health begin to suffer. When you lose a tooth, your jawbone is no longer stimulated in that area by the tooth's root. This causes the jawbone to deteriorate over time. Your surrounding teeth start to lose support from the jawbone, putting you at a greater risk of further tooth loss.
In addition, the more teeth you lose, the harder it is to maintain a healthy and balanced diet. Eventually, this can lead to nutritional deficiencies that harm your general well-being. Besides being detrimental to your oral and overall health, missing teeth also change the shape of your face due to the muscles no longer being supported by your tooth roots. As a result, your facial muscles will start to droop, making you appear more wrinkled and generally older than you actually are.
What Are My Treatment Options?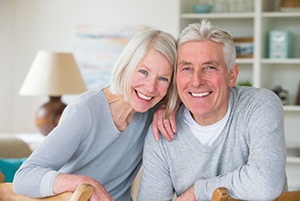 Fortunately, dentures in Whiting can prevent the problems of missing teeth described above. While conventional dentures have a reputation of looking and feeling artificial, the truth is that we use only the most lifelike materials to craft your new teeth. Depending on the number of teeth your smile is missing, we may use one of these treatment options:
Full Dentures
For patients missing all their teeth on their top and/or bottom arch, we may recommend a full denture, which is often what you think of when someone mentions the word "dentures." We take an impression of your mouth to create a gum-colored acrylic base which holds your new, all-ceramic teeth. Natural suction against the gums is used to hold them in place, with a bit of denture adhesive if need be.
Partial Dentures
If you're missing a few teeth but still have some healthy pearly whites remaining, your dentist in Crown Point can offer partial dentures, also known simply as partials. We use impressions of your mouth to make sure the ceramic teeth perfectly match the appearance of your natural teeth, so no one will suspect that you don't have a full, natural set. The prosthetic teeth are attached to a metal framework that stays in place with clasps that are placed onto your remaining natural teeth.
Implant-Retained Dentures
As an alternative to traditional full or partial dentures, we offer dentures that are secured with dental implants. This prevents your dentures from slipping or losing their fit over the years. The implant posts also stimulate the jawbone more so than conventional dentures, which keeps the bone from deteriorating and helps to maintain your youthful appearance. During your consultation with us, we can discuss more details about the procedure as well as your candidacy for dental implants.
The Cost of Dentures
Because every patient's mouth is different, there is no fixed cost of dentures. To determine the amount you'll end up paying, we have to ask a few questions, such as:
What kind of denture are you getting?
How many teeth are you missing?
Will one or more tooth extractions be required beforehand?
Are you getting implants?
We also have to factor in dental insurance. The majority of insurance carriers will cover the cost of dentures up to 50%, although it's a good idea to review your individual policy before you can expect coverage. Don't worry; we'll do everything in our power to help you pay for your new teeth without breaking the bank.
Benefits of Dentures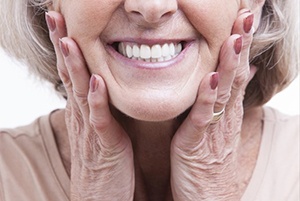 Full, partial, and implant-retained dentures come with several benefits, including:
A fully restored smile. Modern dentures are designed to look and feel as natural as possible.
Restored function. You'll once again be able to pronounce words without difficulty and eat a varied diet of healthy, crunchy foods.
Easy maintenance. With traditional full or partial dentures, you can take them out at night to let them soak in cleanser.
Dentures are a highly cost-effective way of replacing missing teeth in the long-term, and can fit into almost anyone's budget.
Rebuild Your Smile Today!
If you're ready to schedule a consultation with your dentist in Whiting for dentures, then just give us a call. We at Berquist Family Dentistry can get you started on your journey to a fuller and healthier smile!
Dentures FAQs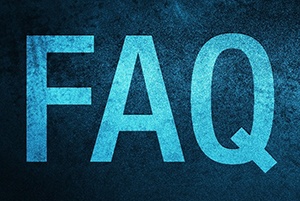 If you've experienced significant tooth loss in one or both arches, dentures in Crown Point are an affordable and effective solution to rebuild your smile. Although they've been used for generations to treat complete tooth loss, it's normal to have several questions before you're ready to commit to the treatment. We understand your concerns, which is why we'll take the time to address them during your initial consultation. While you wait for your appointment, here are the answers to a few of the most common questions we're asked to help ease any apprehensions.
How much do dentures cost?
There is not a set fee for dentures because the final cost is determined by your specific treatment plan, such as if you're replacing both arches and if you need any additional treatments. We'll provide you with a customized estimate during your initial consultation and discuss the fees associated with your treatment. A member of our team will take the time to explain your payment options, like using your dental insurance or third-party financing with CareCredit.
Should I sleep in my dentures?
It can be embarrassing getting caught without any teeth, but you don't want to sleep in your dentures. Your mouth needs a break, and you also need to maintain your oral hygiene. It's best to wear your dentures for no longer than 24 hours; however, it's recommended you take them out at night. This allows your gums and mouth to relax, while also giving you the opportunity to soak your dentures in a special solution to neutralize any unpleasant odors.
Are dentures permanent?
Unfortunately, your dentures in Whiting won't last forever. On average, they last for 5 to 7 years before needing to be replaced. There are several things you can do to promote how long they last, like cleaning them regularly and visiting your dentist at least every 6 months. If you're interested in a more permanent solution, ask your dentist in Crown Point about the benefits of stabilizing your denture with dental implants.
Can I eat normally with dentures?
Dentures are an excellent solution to rebuild a functional smile to enjoy a variety of foods to prevent nutritional deficiencies. You will need to adjust to wearing your dentures, which can take a few days. In no time at all, you'll be able to eat many of your favorite foods. Despite the latest innovations in dentistry, dentures will also have their limitations. If you want a close replica of your natural teeth, dental implants can increase your biting force by 70% when used to stabilize your denture.
Am I a candidate for dentures?
If you've lost several or all your natural teeth in one or both arches, you might be a candidate for dentures. Your dentist in Whiting will perform a thorough consultation to assess your specific needs. They will create the customized treatment plan you need to rebuild a beautiful, functional smile. Contact our office today to get started.
Learn More