Family & Preventive Dental Care for Crown Point & Whiting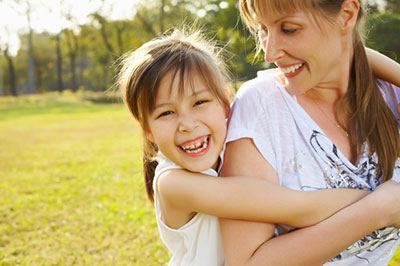 From the moment we develop our first teeth as children, we're vulnerable to the most common oral health problems, like tooth decay and gum disease. As a result, regular checkups and dental cleanings are important for everyone in your family, not just the adults. If you're looking for a practice that can serve your whole family, look no further than Berquist Family Dentistry. We value family just as much as you do. You can even see this in the father-son team of Dr. Robert Berquist and Dr. Daniel Berquist, as well as in the other family connections around our office. Trust us to give your family the care it deserves.
Optimal Oral Health with Frequent Care
How often should your family see us for checkups and cleanings? We recommend coming in twice a year. During your appointments, one of our hygienists will perform a thorough dental cleaning to protect your smile from bacteria and plaque buildup. Then, Dr. Robert Berquist or Dr. Daniel Berquist will meet with you and complete a visual exam. During your exam, we'll be looking for signs of the most common oral health problems. We want to diagnose and care for these issues as early as possible, because the earlier we find something, the more conservatively we can treat it. Conservative dentistry is always about helping you keep as much of your natural smile as possible. What's more, early care is always less invasive, more comfortable, and more affordable.
Committed to Patient Education
In addition to cleaning your teeth and making you aware of any specific issues, we're also committed to patient education. Knowing how to brush and floss more effectively can make a dramatic difference in any patient's life. We would also be happy to talk to you about your diet. Certain foods are more likely to trigger the spread of decay-causing bacteria. During your appointment, we can recommend alternatives to your current diet so that you're eating healthier and enjoying better overall wellbeing. At the end of your appointment, if you have any other questions for us, whether about nutrition or daily brushing and flossing, we would be happy to help you answer them.
Are you ready to schedule your next visit with Dr. Robert Berquist or Dr. Daniel Berquist? Call us today to reserve an appointment. We're happy to serve patients from Crown Point, Whiting, Merrillville, Cedar Lake, St. John and other communities in Northwest Indiana.
Learn More