Dental Implants – Crown Point
The Most Modern Solution to Tooth Loss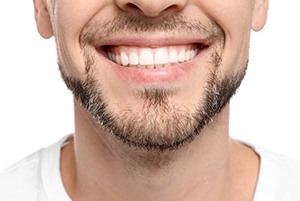 If you are missing one or more teeth, you can have a strong, beautiful smile again without the need for a traditional bridge, partial, or full denture. With dental implants in Crown Point, you can enjoy more natural results by pairing a custom-made restorative piece with one or more titanium implant posts, which act like prosthetic roots. The combination of a crown, bridge, partial, or full denture with a prosthetic root is similar to nature's own design, making it possible for patients to have a smile that looks and functions just like the one they used to have. No matter if you are missing one tooth, several teeth, or all your teeth, Berquist Family Dentistry has the solution you need with dental implants. Just give us a call to learn more!
Why Choose Berquist Family Dentistry for Dental Implants?
Works with Local Dental Implant Experts
Dental Treatments Catered to Your Unique Needs
Wide Range of Dental Payment Options Available
What Are Dental Implants?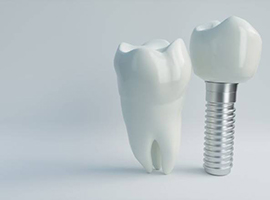 A dental implant is a titanium post meant to mimic the root structure of a one or more missing teeth. A small incision is made in the gums, and the post is surgically inserted into the jawbone. After spending several months at home allowing osseointegration (fusing of the implant to the bone) to occur, you will return to have your customized dental crown, bridge, or denture (also known as your restoration) placed on top of the implants, fully restoring the tooth's structure.
As the only treatment option that rebuilds a lost tooth from top to bottom, dental implants come highly recommended by most dental professionals, including our very own Dr. Daniel Berquist and Dr. Robert Berquist. Because of their stable foundation in the jawbone, dental implants are more lifelike, reliable, and long-lasting than any alternative solution.
The 4-Step Dental Implant Process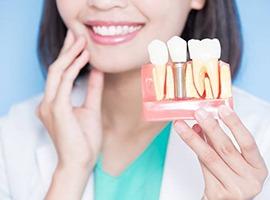 Getting dental implants requires multi-step treatment plan; however, it's time well-spent to ensure your new smile can last for decades. We'll explain each phase and address any concerns during your initial consultation. In the meantime, here's a general outline of the four basic steps in the dental implant process:
Initial Dental Implant Consultation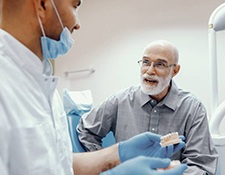 Most patients who have good oral and general health are candidates for dental implants; however, you'll still need a thorough consultation. We will perform a visual examination and take a CT scan to assess your oral health. Based on the results of the consultation, you may need additional treatments to become a candidate for the procedure, like tooth extractions, periodontal therapy, or bone grafting.
Dental Implant Surgery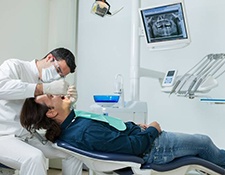 After you've healed from any previous treatments, you're scheduled for your implant placement surgery. We partner with the best dental implant specialists in the area to ensure you receive the highest quality of care. Sedation or anesthesia is used to ensure your comfort while your gum tissue is opened to gain access to your jaw. A small hole is drilled into your bone to insert the titanium post. Your gum tissue is stitched closed and you'll spend the next several months healing.
Dental Implant Osseointegration/Abutment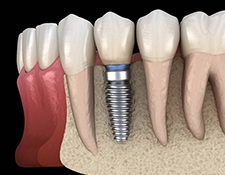 The implant post acts as a root, stimulating your jaw to encourage bone growth. Your jaw will fuse to the post through a process called osseointegration. This allows the post to potentially remain in place forever with the right care. Not to mention, your restoration will have a stable foundation, so you won't need to worry about any slipping or irritation.
It usually takes three to six months for your jaw to fully heal. Afterward, you'll need a second minor surgery to attach an abutment to the post. The special fixture connects your restoration to your implant. It takes about two weeks for your gum tissue to heal after the procedure.
Delivery of Dental Implant Restorations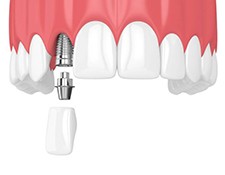 While you're recovering from your abutment procedure, the dental lab will be hard at work creating your restoration. It's made of all-ceramic material to match the color, size, and shape of your natural teeth to blend in when you smile and speak. It's also durable to withstand the pressure of regular chewing to enjoy your favorite foods.
Benefits of Dental Implants
Dental implants as we know them today were first placed in the 1960s. Since then, dentists have had a chance to see the short- and long-term benefits of dental implants, and they've quickly become the new standard for replacing teeth. Once you understand what makes dental implants unique, it's not hard to see why so many people choose them over traditional dentures and bridges. Below are just some of the benefits that you'll enjoy when you choose single implants, implant bridges, or an implant denture.
Day-to-Day Benefits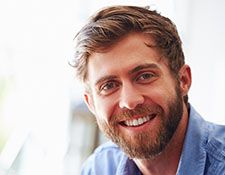 Health Benefits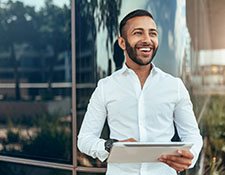 Improved Oral Health: Since dental implants are so easy to clean, you should be able to maintain a healthy mouth over the long term. By brushing and flossing as thoroughly as possible, you can avoid gum disease and other health issues that could eventually lead to costly treatments.
Strong Jawbone: Did you know that your teeth are actively working to keep your jawbone strong and healthy? The stimulation they provide encourages the rest of the body to deliver nutrients to the area and maintain the jaw.
No Sensitivity or Sores: Dental implants don't require us to make changes to natural teeth, meaning they don't carry a risk of increasing tooth sensitivity. And because they support dental restorations themselves, you'll avoid the soreness that's often associated with dentures.
Long-Term Benefits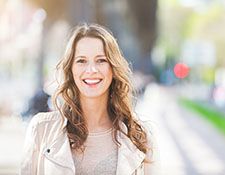 Who Dental Implants Can Help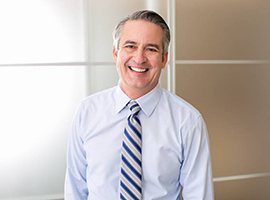 Thanks to their versatility, dental implants are ideal for a wide variety of tooth loss cases. Consider your options below!
Missing One Tooth
When replacing a single tooth, a dental implant post, an abutment, and a dental crown are needed. The biocompatible implant post is surgically placed into the jawbone to replace the tooth root while also providing a secure foundation for the dental crown. Over the course of the next several weeks, your jawbone will fuse to the implant post, allowing it to remain in place for many decades with the right aftercare.
Missing Multiple Teeth
Dental implants in Crown Point now provide the perfect alternative to a traditional dental bridge when needing to replace multiple missing teeth in a row. Prosthetic teeth will be created to bridge the gap. Instead of using dental crowns that are placed on the adjacent teeth to hold it in place, an average of one to two dental implant posts are used.
They anchor the oral appliance in place, allowing you to regain more of your natural ability to chew and speak. Not to mention, without capping the natural teeth, it helps to preserve them from damage in the future. You will give them the support they need to stay firmly in place while improving your quality of life.
Missing All Teeth
You can replace an entire arch of teeth with dental implants. A full dental implant procedure is completed in two phases. In the first, an average of four implant posts are surgically placed into the jaw. Then, after they have had time to bond with your jawbone, your posts will be exposed, and your custom-made full denture will be attached. This process can take several months to complete, but the results are unlike anything you can get with traditional restorative care.
Understanding the Cost of Dental Implants
Determining the cost of your dental implant procedure largely depends on how many teeth you intend to replace. Those who intend on replacing one tooth vs. multiple teeth will have to pay more since it requires more implants, more complex restorations, and more customization. This also doesn't include preparatory treatments for those with limited amounts of bone volume. Bone grafts can improve your eligibility, but they require more time and more appointments to complete.
Regardless of what your dental implant procedure costs, keep in mind that dentists consider it to be one of the most cost-effective solutions for tooth loss, especially if it's extensive. You're not only getting a solution designed to last for decades, but a solution that truly feels the closest to natural teeth.
Learn More