Dental Implants – Whiting, IN
The Most Natural Solution to Modern Tooth Loss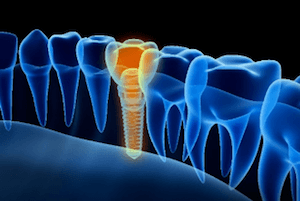 If you are missing one or more teeth, you can have a strong, beautiful smile again without the need for a traditional bridge, partial, or full denture. With dental implants in Whiting, you can enjoy more natural results by pairing a custom-made restorative piece with one or more titanium implant posts, which act like prosthetic roots. The combination of a crown, bridge, partial, or full denture with a prosthetic root is similar to nature's own design, making it possible for patients to have a smile that looks and functions just like the one they used to have. No matter if you are missing one tooth, several teeth, or all your teeth, Berquist Family Dentistry has the solution you need with dental implants.
Benefits of Dental Implants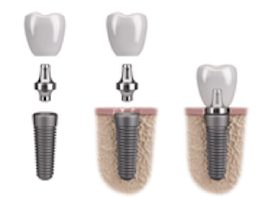 Replacing missing teeth as soon as you possibly can is important. Not only is it more difficult to enjoy a nutritious diet when you have one or more gaps in your smile but communicating clearly and smiling with confidence is also more difficult. What's more, tooth loss can also cause bone loss.
Your tooth roots have two important jobs: one is to anchor teeth to the jaw while the other is to stimulate new bone growth in the jaw over time. However, when you lose a tooth and its root, a part of your jaw is no longer receiving new tissue. Over time, this part of your jaw will weaken as you lose bone. With enough time, you might even lose other teeth that are otherwise healthy as the weakness in your jaw spreads.
Dental implants can help to support your jaw by taking on the job of a natural root. They are the only dental prosthetic that can actually preserve your bone density by stimulating new growth. You'll also regain the ability to eat all the foods you enjoyed before, including apples, steak, nuts and corn on the cob!
Additionally, dental implants restore blood flow to your cheeks, preventing them from prematurely sagging or hollowing out. This is very common for those missing teeth, even if they've had a denture or bridge for a long period of time.
Finally, dental implants have become the preferred solution to replace missing teeth because they offer over a 95% 10-year success rate. That's reliability and durability you can't find anywhere else.
Indications for Dental Implants
Thanks to their versatility, dental implants are ideal for a wide variety of tooth loss cases. Consider your options below!
Missing Single Tooth
When replacing a single tooth, a dental implant post, an abutment, and a dental crown are needed. The biocompatible implant post is surgically placed into the jawbone to replace the tooth root while also providing a secure foundation for the dental crown. Over the course of the next several weeks, your jawbone will fuse to the implant post, allowing it to remain in place for many decades with the right aftercare.
Missing Multiple Teeth
Dental implants in Crown Point now provide the perfect alternative to a traditional dental bridge when needing to replace multiple missing teeth in a row. Prosthetic teeth will be created to bridge the gap. Instead of using dental crowns that are placed on the adjacent teeth to hold it in place, an average of one to two dental implant posts are used.
They anchor the oral appliance in place, allowing you to regain more of your natural ability to chew and speak. Not to mention, without capping the natural teeth, it helps to preserve them from damage in the future. You will give them the support they need to stay firmly in place while improving your quality of life.
Missing All Teeth
You can replace an entire arch of teeth with dental implants. A full dental implant procedure is completed in two phases. In the first, an average of four implant posts are surgically placed into the jaw. Then, after they have had time to bond with your jawbone, your posts will be exposed, and your custom-made full denture will be attached. This process can take several months to complete, but the results are unlike anything you can get with traditional restorative care.
Understanding the Cost of Dental Implants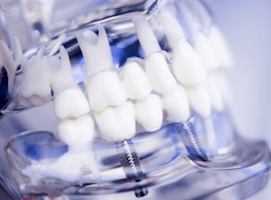 Determining the cost of your dental implant procedure largely depends on how many teeth you intend to replace. Those who intend on replacing one tooth vs. multiple teeth will have to pay more since it requires more implants, more complex restorations and more customization. This also doesn't include preparatory treatments for those with limited amounts of bone volume. Bone grafts can improve your eligibility, but they require more time and more appointments to complete.
Regardless of what your implant procedure costs, keep in mind that dentists consider it to be one of the most cost-effective solutions for tooth loss, especially if it's extensive. You're not only getting a solution designed to last for decades, but a solution that truly feels the closest to natural teeth.
Exceptional Results for Crown Point, Whiting, and Beyond!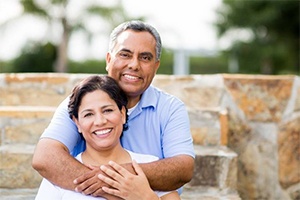 Do you want to know if dental implants are right for you? Dr. Robert Berquist and Dr. Daniel Berquist would be happy to answer that question. During a consultation appointment, they can assess your situation and explain all your options. For many patients, dental implants are an excellent service, while others may need to consider alternative options. Regardless, we have the experience and tools to help you achieve better health, functionality, and well-being again.
Are you ready to schedule your next visit with Dr. Robert Berquist or Dr. Daniel Berquist? Call us today to reserve an appointment. We are happy to serve patients from Crown Point, Whiting, Merrillville, Cedar Lake, St. John, and other communities in Northwest Indiana.
Contact us today for your consultation. We look forward to restoring your smile.
Learn More