Implant-Retained Bridge – Crown Point & Whiting, IN
Stable, Strong, and Lifelike Multiple Tooth Replacements
If you're missing multiple teeth, it can be hard to speak, chew, and smile without struggling or feeling self-conscious. However, with an implant-retained bridge in Crown Point & Whiting, patients can enjoy restored strength, function, biting power, and best of all, confidence. Drs. Daniel and Robert Berquist combine dental implants with dental crowns to give you the best option for multiple tooth replacement. Keep reading to learn more about this treatment!
Two Consecutive Missing Teeth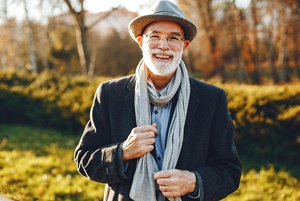 Replacing any missing parts of your smile is important, but if you have 2 lost teeth consecutively, it's incredibly hard to eat and speak regularly. Thankfully, we can anchor a custom-made dental bridge with dental implants to literally "bridge" the gap in your smile. The results are a strong, beautiful, and functional set of teeth.
Three or More Consecutive Missing Teeth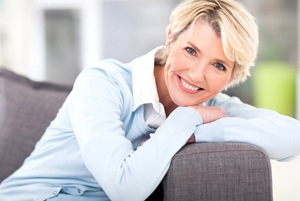 Traditional dental bridges consist of 2 dental crowns with prosthetic teeth attached in between them. The dental crowns are used as supports for the bridge. However, if you're missing 3 or more teeth, we will recommend implants instead of crowns. With a dental implant placed on either side of the gap in your smile, we can restore the visible portion of your teeth while also creating firm supports and stimulating the jawbone.
Multiple Missing Teeth Throughout an Arch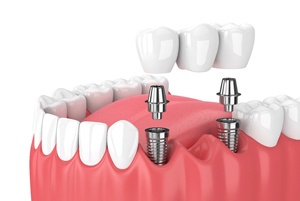 You may be wondering if you can still enjoy the benefits of dental implants if you're missing teeth nonconsecutively. Because every case is different it's hard to make a precise estimate without examining your smile first. However, one of the reasons we offer dental implants is because they can be used to replace various patterns of tooth loss. To see if this treatment is right for you, contact our office today!
Benefits of Implant-Retained Bridges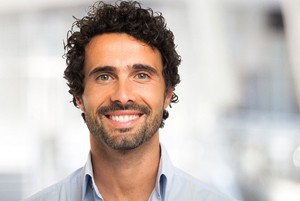 We combine dental bridges with dental implants because they can offer our patients these unique benefits:
Does it sound like you could benefit from an implant-retained bridge? Contact our office today to get started!
Learn More