How Dental Implants Work – Crown Point, IN
Learn More about the Dental Implant Process
If you've lost one or more teeth, you can enjoy the next best thing to your natural smile using the most successful option for tooth loss. Many patients turn to dental implants in Crown Point and Whitening because they closely replicate your tooth's structure. This allows them to provide various benefits that aren't possible using any other solution. Since they replicate both the root and crown, you'll need to undergo a multi-step treatment process. Don't worry, here's what you can expect while on your journey to a complete smile.
Initial Consultation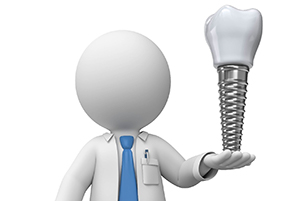 Most patients who have good oral and general health are candidates for dental implants; however, you'll still need a thorough consultation. We will preform a visual examination and take a CT scan to assess your oral health. Based on the results of the consultation, you may need additional treatments to become a candidate for the procedure, like tooth extractions, periodontal therapy, or bone grafting.
Implant Placement Surgery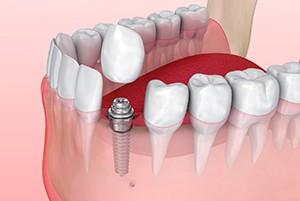 After you've healed from any previous treatments, you're scheduled for your implant placement surgery. Sedation or anesthesia is used to ensure your comfort while your gum tissue is opened to gain access to your jaw. A small hole is drilled into your bone to insert the titanium post. Your gum tissue is stitched closed and you'll spend the next several months healing.
Osseointegration & Abutments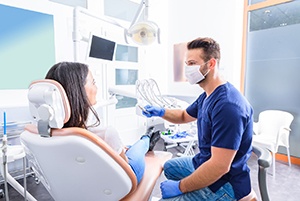 The implant post acts as a root, stimulating your jaw to encourage bone growth. Your jaw will fuse to the post through a process called osseointegration. This allows the post to potentially remain in place forever with the right care. Not to mention, your restoration will have a stable foundation, so you won't need to worry about any slipping or irritation.
It will take several weeks for your jaw to heal. Afterward, you'll need a second minor surgery to attach an abutment to the post. The special fixture connects your restoration to your implant. It takes about 2 weeks for your gum tissue to heal after the procedure.
Restoration Placement
While you're recovering from your abutment procedure, the dental lab will be hard at work creating your restoration. It's made of all-ceramic material to match the color, size, and shape of your natural teeth to blend in when you smile and speak. It's also durable to withstand the pressure of regular chewing to enjoy your favorite goods.
Get Started Today!
If you're ready to rebuild a beautiful smile, Berquist Family Dentistry has the solutions for you. We'll preform a comprehensive examination and discuss the results you want to achieve to create a customized treatment plan. Take your first step toward a complete smile by scheduling your consultation with your dentist in Crown Point and Whitening for dental implants.
Learn More