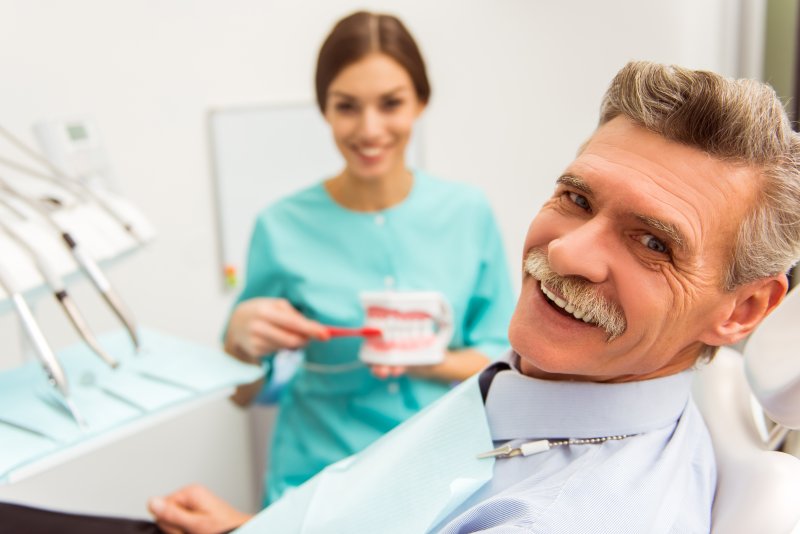 When you have a full denture, it's easy to think you don't need dental visits anymore. After all, aren't checkups only for patients with natural teeth? In that case, having an appointment would be pointless! The truth, though, is that even full denture wearers should see their dentist regularly. Failing to do so means missing out on various long-term benefits. To prove it, your local dentist is here with the scoop. Read on to learn three big reasons for dental checkups with dentures in Crown Point.
To Keep Your Mouth Healthy
Whether or not you have full dentures, your mouth needs care to stay healthy. Harmful plaque, bacteria, and other factors could still put it at risk.
Consider your gums, for instance. Having dentures doesn't remove your risk for gum disease. If you don't get checkups, the tissue in question could get inflamed or infected.
Dentures themselves can put your mouth in danger too. Without proper cleaning, they'll accumulate plaque that causes various oral health problems. Furthermore, dentists are the ones who clean the prosthetics most effectively.
To Find & Treat Oral Issues
Dental checkups not only prevent issues for denture wearers, but also diagnose and treat them. They're especially good at detecting gum disease and oral cancer early.
In fact, this detection is especially crucial when you have dentures. Evidence shows that people with these prosthetics (particularly ill-fitting ones) are more likely to get oral cancer, so they need dentists. As such, getting a checkup ensures you have someone who can act quickly if you show warning signs.
To Help Your Dentures Work
Without regular dental care, there's a good chance your dentures will face problems over time. They might, for example, start to fit poorly due to changes in your bite. On the other hand, perhaps they'll take damage that makes them unusable. Either way, such situations could lead to discomfort, severe oral issues, TMJ, poor nutrition, and more.
Given these facts, denture wearers should visit their local practice every few months. That way, a dentist can make fitting adjustments and repairs to ensure the prosthetics work properly.
In the end, dental checkups with dentures in Crown Point are essential. That being said, remember to get them so you can enjoy the benefits above!
About the Practice
Berquist Family Dentistry is based in Crown Point, IN. As led by Drs. Daniel and Robert Berquist, our practice emphasizes personalized dentistry. To that end, we perform custom treatments that span, preventive, cosmetic, and restorative services, not to mention emergency dental care. Whether you need a teeth cleaning or teeth replacement, we'll do the job right! For more information or to book a visit, you can reach us on our website or by phone at (219)-226-0544.