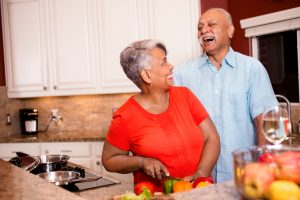 Smile gaps affect your appearance, self-image and oral function. Who wants to smile broadly or laugh loudly if you are missing teeth right in the front of your mouth? Eating and speaking are impacted as well. Change your outlook and your health when you look into dental implants from Whiting dentists, Drs. Robert and Daniel Berquist. Dental implants in Crown Point provide superior aesthetics, stability and longevity. Could you be a candidate for these outstanding tooth replacements?
It's an Artificial Tooth
Comprised of a titanium screw, metal alloy post and porcelain crown, a dental implant fully replaces a missing tooth from root to crown. Residing in the jaw bone, the implant device adheres to the jaw through osseointegration. This natural and almost miraculous process creates a stable, long-lasting foundation for the dental implant.
In fact, every time the patient bites and chews on the finished implant, he or she exercises and strengthens the underlying bone. Traditional dentures or bridgework cannot do that because they simply rest on top of the gums.
Placed in multiples, dental implants can support full and partial dentures and fixed bridgework. They provide patients natural chewing and appearance and none of the slippage, speech slurring or bone and gum resorption common to  traditional prosthetics. Patients feel as though they have their real teeth.
Who is a Candidate?
To determine if a patient is healthy enough to receive a dental implant, Dr. Berquist performs a comprehensive oral exam. He takes digital X-rays and uses other imaging to see if gums and bone are sizable enough to receive implants. If bone is thin, there are augmentation procedures for the alveolar ridge (the part of the jaw in which tooth roots reside) to rebuild it to sufficient size and strength.
Also, a patient needs to be in good overall health. People with poorly controlled diabetes, heart disease or have a weak immune system should postpone dental implant procedures. Patients with dental decay or gum disease must have these issues resolved before considering implants.
In addition, good candidates brush twice daily and floss every day to keep teeth and gums healthy. They see their dentist semi-annually for check-ups and hygienic cleanings. Tobacco users can receive dental implants, but overall oral health and implant success improve with smoking cessation. Cigarettes contain toxins that infect the gums and bone surrounding implants, causing a serious condition called peri-implantitis. Similar to gum disease, peri-implantitis frequently leads implant failure and removal.
Why Implants Succeed
Approximately 98 percent of dental implants succeed and stay in place for decades according to the American Academy of Periodontology. This amazing success originates in osseointegration–the natural process by which the titanium implant device bonds with the jaw bone. If patients do not bite or chew on their implants during the healing process, implants anchor in place and stay put indefinitely.
Wanting a Better Smile?
Dental implants fill smile gaps beautifully. Please contact Berquist Family Dentistry to set-up a consultation. The doctor will give you an accurate picture of how these amazing devices may work for you.