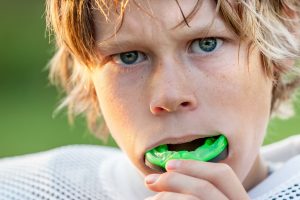 No one ever expects a dental emergency to happen to them, but 1 in 6 Americans experience urgent oral health issues every year. Many factors lead to dental emergencies, but sports are a common culprit. 13% to 39% of all dental injuries are sports-related. Research has found that 50% of child athletes will have a dental injury before graduation. Here's how you can protect your child's smile from the most prevalent sports-related dental injuries.
Types of Sports-Related Dental Emergencies
An afternoon riding a skateboard or a friendly game of football can easily result in a knocked-out or broken tooth. Whether it's a baby tooth or an adult, time is of the utmost importance. Here's how to address the most common types of sports injuries:
Cracked Tooth: An injury to the mouth can crack a tooth. Sometimes the damage is too small to see, which is why it's important to have the tooth examined by an emergency dentist. Often, dental bonding is all that's needed to fix the damage. Have your child avoid putting pressure on the tooth until after it has been repaired. Use an over-the-counter pain reliever to manage any discomfort.
Fractured Roots: Not all damage is visible from the surface. Fractured roots can turn into a big problem with no treatment, like an infection. Contact an emergency dentist right away and keep your child comfortable with an over-the-counter pain reliever.
Tooth Intrusion: A tooth can be pushed into the jawbone, which can seriously damage the roots. It can also destroy the pulp deep within the tooth. The tooth may need to be removed with no treatment. An emergency dentist will determine if your child's tooth can be saved.
Avulsed Teeth: A tooth can be dislocated from its socket. If your child doesn't see a dentist quickly, the tooth will need to be replaced. It's best to reposition the tooth and have your child bite on a piece of gauze to hold it in place.
Invest in the Protection of an Athletic Mouthguard
According to the National Youth Sports Foundation for Safety, athletes are 60 times more likely to damage their teeth if they aren't wearing a mouthguard.
An athletic mouthguard is equally important as a helmet on the football field. It provides a protective barrier for your child's teeth, gums, and oral structures. It can even lessen their risk of jaw injuries and concussions.
It's best to visit their pediatric dentist for a custom-fit mouthguard to ensure maximum protection. It will fit their mouth like a glove to safeguard their smile from injuries.
About Dr. Jordan Berquist
Dr. Berquist earned his dental degree from the Indiana University School of Dentistry and has regularly continued his education in various specialties. He can treat the most complex oral health issues, including dental emergencies. He is a proud member of several professional organizations, like the American Dental Association. Call (219) 227-6989 to schedule an appointment.