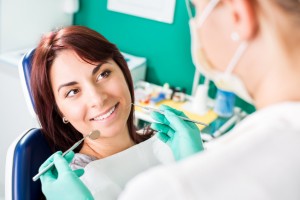 Stained, chipped, cracked, misshapen… just a few of the words you'd never want to use to describe your teeth. But if age, accidents or merely bad luck have left you with an imperfect smile, you need to know about your cosmetic enhancement options. And guess what? Porcelain veneers in Whiting at Berquist Family Dentistry can have you smiling beautifully again after just two visits to our office. Keep reading to learn more today!
Porcelain Veneers in Whiting are Permanent Smile Enhancers
At Berquist Family Dentistry, we've already helped so many of our Whiting and Crown Point neighbors enhance their teeth using porcelain veneers. They're an excellent solution for a number of cosmetic dental problems, including:
Stained or discolored front teeth
Chipped, cracked or visibly worn front teeth
Gapped teeth in the front
Noticeably misshapen teeth
Mildly misaligned teeth
Good candidates for porcelain veneers include those who have cosmetic issues with the teeth that show when they smile. Good oral and overall health should be a consideration, too — patients suffering from gum infection or disease are not good candidates for porcelain veneers.
Procedure for Porcelain Veneers
Ultra-thin caps made of porcelain, veneers work by completely covering the damaged tooth, instantly restoring its shape, color and overall appearance — all in just two visits to Berquist Family Dentistry.
In the first visit, Dr. Robert Berquist or Dr. Daniel Berquist will discuss your smile goals to understand exactly what you'd like to achieve with porcelain veneers. We know not everyone wants a celebrity smile, so it's helpful if you bring in photos of what you do and don't like. Once we completely understand what you'd like to achieve, we'll take careful impressions of your teeth and prepare them for the veneers. You'll leave our office after your first appointment with temporary veneers.
In your second appointment at Berquist Family Dentistry, your veneer or veneers are ready for placement. We'll check to make sure they look and fit great, and you get the final say before your dentist finally secures them on using a special bonding agent. Once the procedure is complete, you leave our office with a completely transformed smile — and we promise it's one you won't ever want to hide again.
Schedule Your Porcelain Veneers Consultation in Whiting Today
If you'd like to learn how porcelain veneers in Crown Point and Whiting can transform your smile in 2016, please don't hesitate to contact our office. We're here to help our neighbors achieve their smile dreams — and that means you, too. Call us to schedule your porcelain veneers consultation today!