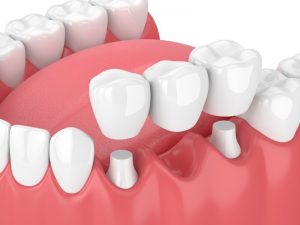 If you have one or more missing teeth, you know how it can impact your life. A gapped smile not only impacts your everyday functions, like speaking and eating with ease, but your confidence when interacting with others. Fortunately, a dental bridge can restore your pearly whites and give you back the benefits of having a full set of teeth. But how long can you count on it to last? Read on to learn about the lifespan of a dental bridge and how to get the most out of it.
First Things First: What Is a Dental Bridge?
A dental bridge is a custom-made restoration that replaces three or more consecutive missing teeth. Its design is made up of two or more dental crowns that are placed on the healthy teeth on either side of the missing one.
There are two types of dental bridges that can seamlessly correct the gaps in your smile:
Removable bridge: This type is more cost-effective and doesn't require surgery. However, it does need to be removed every day for cleaning and maintenance.
Fixed bridge: A fixed bridge clasps to your natural teeth or can be attached to dental implants. An implant-retained bridge uses biocompatible steel posts that are attached to the jawbone, providing incomparable stability.
What's the Expected Lifespan of a Dental Bridge?
Generally, the average lifespan of a dental bridge is between five to seven years. However, this can be lengthened (or shortened) depending on certain factors like oral health care routine, overall well-being, and lifestyle choices. Naturally, if you brush and floss consistently and visit your dentist every six months, you increase the chances of your dental bridge reaching its maximum longevity.
Tips to Extend the Lifespan of Your Dental Bridge
So, besides maintaining an excellent dental routine, what can you do to help your dental bridge last as long as possible? Here are a few helpful tips:
Avoid bad oral habits: Smoking, biting your fingernails, chewing on pens or pencils, and using your teeth as tools place your dental bridge at risk of being damaged.
Be mindful of your diet: It's best to avoid brittle, tough, chewy, or hard foods as the force of chewing can harm your restoration.
Visit your dentist regularly: Your dentist can help catch any issues with your dental bridge before they become more serious, helping your oral health and restoration to stay in their best condition.
While there is a range of time you can expect your dental bridge to last, you can do your part to get the most out of it. By following these helpful tips, you can count on a complete and healthy smile for years to come!
About the Practice
Berquist Family Dentistry keeps the smiles of Crown Point whole, healthy, and beautiful through the expertise of their father-son team. With a commitment to providing high-quality dentistry to the entire family, they offer a comprehensive range of dentistry, including restorative care. They can help you restore your teeth with many different options, such as dental bridges. To schedule an appointment, contact them through their website or call (219) 226-0544.