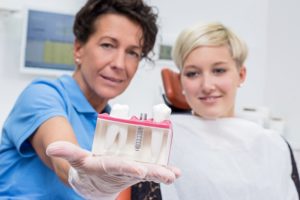 Finding the right dentist for the most basic treatments is important, but when you've chosen to invest in an advanced procedure like implant supported tooth replacement, it's essential. Before you get started with your implant tooth replacement plan, take a few minutes to read this post. We'll walk you through some of the ways to determine whether or not you've found the right implant dentist to fully renew your smile.

1 – Qualifications & Training
The first and perhaps most obvious way to make sure you've got the right implant dentist is to ask about his or her qualifications and training. While most dentists receive basic training in implant placement during their doctoral studies, many choose to complete advanced training to ensure they can safely and effectively place dental implants. In some cases, you can find this information on your dentist's website, but you should never hesitate to ask your dentist to tell you about all of their training for any advanced treatment.
2 – Past Experience
Another consideration is the number of implant procedures your dentist has successfully performed. While the right training will ensure your dentist knows how to properly place implants from the very first procedure, experience gives the dentist the ability to deal with any issues that arise and avoid common complications associated with these procedures. In many cases, dentists will even offer you access to before and after images of their real implant tooth replacement cases, so you can see their flawless work for yourself.
3 – Good Reviews
Finally, you might want to track down reviews and testimonials from patients who have already received implant supported tooth replacement treatment from your dentist. This is an excellent way to learn more about just what you can expect from your dental implant treatment with a specific dentist.
Meet the Berquist Family Dentistry Team
At Berquist Family Dentistry, every member of our team is highly qualified and dedicated to helping patients of all ages achieve their healthiest, happiest, most beautiful smiles for life. When we create your custom implant supported tooth replacement plan, you can feel 100% confident we've taken the time to ensure you receive exceptional service and lasting results. Both our dentists, Dr. Daniel Jordan Berquist and Dr. Robert Jordan Berquist, have completed advanced training that allows them to offer safe, smile perfecting implant supported tooth replacement using the highest quality materials and state-of-the-art technologies. Ready to get started? Call to schedule your tooth replacement consultation in our Crown Point dental office today.