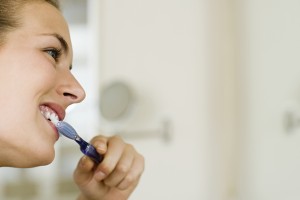 Let's discuss gum disease. We understand that this isn't exactly everyone's favorite topic, but it is an important one nevertheless. And considering the fact that some 80 percent of American adults have either gingivitis or periodontitis—the early and latter stages of gum disease—it's a subject that should probably be talked about more often. So, let's talk. Crown Point dentists Dr. Daniel Berquist and Dr. Robert Berquist want you to know what you can do to avoid this disease and what the early warning signs are, so gum disease treatment to reverse the effects can begin quickly.
How Can I Avoid Gum Disease?
Preventing this bacterial infection, also called periodontal disease, really is as easily done as said: brush, floss and schedule regular dental checkups. Your regular at-home oral hygiene routine is critical to maintaining healthy gums. When you brush, be sure to hold the brush at a 45-degree angle against your teeth, so you're also brushing along the gum line to remove any plaque buildup. Flossing at least once a day removes plaque from between your teeth. The bacteria that hide in plaque excrete acids and toxins that are the root cause of periodontal disease. Therefore, removing plaque from the surfaces of your teeth as well as in between goes a long way toward preventing this bacterial infection.
What are the Warning Signs of Gum Disease?
When you come to see your Whiting dentist for one of your biannual checkups, we'll carefully examine your gums for any signs of gum disease. But we also want you to be on the lookout for them during the time between checkups.
The first sign is usually gums that look red and swollen, and they may even bleed when you brush or floss. At this point, the effects of periodontal disease may be reversed with stricter brushing and flossing. In other words, don't skip either on any day!
If not kept in check, then signs of periodontitis may begin to appear. These include:
Chronic bad breath
Gum recession
Shifting or loose teeth
Pus between your teeth
Ultimately, tooth loss may result from severe cases of periodontitis. In fact, gum disease is the leading cause of tooth loss among American adults.
For Gum Disease Treatment, Contact Berquist Family Dentistry
If you have noticed any of the above-mentioned signs of gum disease, then don't wait for your next appointment to see Drs. Berquist. Call our office today, so we can help you avoid the pitfalls of gum disease.