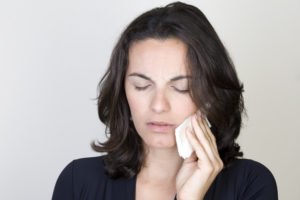 Most people think that their dentist in Crown Point spends most of his or her time filling cavities and pulling teeth. In reality, dentists treat hundreds of oral health conditions, ranging from minor issues to potentially life-threatening diseases. Knowing the most common symptoms for these problems is important for getting the right care when you need it.
Five Warning Signs to Watch Out for
Make an appointment with your dentist right away if you notice any of these problems:
Persistent bad breath. All of us have a little halitosis every now and then. But, when the problem sticks around for a while, it can signal the beginning stages of gum disease. Your dentist can help by performing a complete checkup, giving your teeth a thorough professional cleaning, and coaching you on proper brushing and flossing techniques.
Bleeding teeth or gums, typically after brushing or flossing. Possible causes include lack of oral hygiene, improper brushing or flossing technique, or immune system deficiencies. Your dentist may prescribe medications or suggest a new brand of toothbrush or floss.
Canker sores. This problem can strike anyone every now and then. But, if you notice yourself developing canker or cold sores more than you used to, then you should see your dentist as soon as possible.
Dry mouth. Saliva is one of the most important bodily fluids. Not only does it aid in digestion, it also contains germ-fighting properties that help to keep your teeth healthy. Many problems can cause lack of saliva, including tobacco use, infections, and salivary gland disorders.
Loose, broken, chipped or missing teeth. These problems have many potential causes. For example, your teeth are some of the hardest natural substances on earth. But all kinds of things can damage them, including inadequate diet, bacterial infections or simply biting down on something hard. Whatever the cause, the solution is to see your dentist. He or she can offer many treatment options, from cosmetic bonding to dental implants.
No Dental Coverage? Help is Available
Some people postpone their trip to the dentist due to lack of coverage or fears about cost. If this sounds like you, then here are some helpful options to consider:
Coverage plans are available for less than you might think. You can check rates online or contact your insurance agent for more information.
Many dentists offer weekly or monthly payment plans, especially for basic care like checkups, cleanings and fillings. Talk to the office manager at your local clinic.
Members of certain organizations, AARP for example, enjoy discounts on dental services like checkups
Many communities have reduced-cost or free clinics for people with limited incomes. The staff that services these locations are usually highly skilled professionals who donate their free time on evenings and weekends. Check online or contact a community center in your area for more information.
Modern dentistry offers a wide range of effective treatments. But it's up to us to practice good self-care at the same time. Use the tips in this post to help you enjoy the best possible level of dental health, both now and throughout 2019.
About the Author
Dr. Daniel Jordan Berquist earned his DDS degree from  Indiana University School of Dentistry. He's a member of the American Dental Association and the Indiana Dental Association. You can reach his office online or by calling (219) 226-0544.