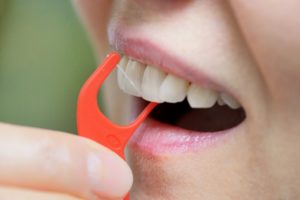 If you skip flossing your teeth at night, you're not the only person. According to the National Health and Nutrition Examination Survey, about one-third of Americans never floss their teeth. Why do most people put off this part of their oral hygiene routine that's deemed a vital component for good oral health by the American Dental Association? Maybe it's because they're not quite sure just how important it is. When done correctly, flossing can benefit your mouth immensely and keep your pearly whites looking and feeling healthy. Read on to learn about the importance of flossing your teeth every day and the best technique to do so.
Why is Flossing Your Teeth Important?
There have been countless studies that have emphasized the importance of flossing your teeth every day. In 2016, the American Dental Association released a statement addressing news reports that brought the effectiveness of flossing into question. They cleared up the doubt by reaffirming that flossing is a vital oral hygiene practice that helps reduce people's risk of developing plaque buildup, cavities, and other serious oral health problems.
Throughout the day, food debris mixes with your saliva and other particles to create a sticky film called plaque in your mouth. It coats your teeth and attracts harmful oral bacteria that release enamel-eroding acid and toxins that are known to cause gum disease and cavities. Brushing and flossing have been proven to be the main line of defense against this. Plaque and bacteria don't just collect on the surface of your teeth, but also in between them, in areas where your toothbrush can't reach. That's why it's so important to floss between each tooth every day.
What's the Best Technique to Floss?
Flossing can sometimes seem like a difficult task when the wrong technique is being used. Here's the most effective way to floss to make sure all plaque and food particles are removed from between your pearly whites:
Break off 18 to 24 inches of dental floss.
Wrap the ends of the floss around each of your middle fingers, leaving about an inch between them.
Gently rock the floss between your teeth until you reach your gumline.
Curve the floss into a "C" shape and run it across the side of your tooth.
Repeat steps 3-4 with each of your teeth.
How Can I Make Flossing Easier?
If you have a difficult time maneuvering dental floss with your hands, there are other tools that you can use to make the process easier. Some alternatives to regular wax floss are disposable or non-disposable floss picks, interdental brushes, or water flossers. If you have certain needs or medical conditions that make moving your fingers and hands difficult, these are easy, effective alternatives. You can also ask your dentist in Crown Point at your next routine checkup and cleaning for additional recommendations.
About the Author
Dr. Jordan Berquist is passionate about providing his patients with gentle, individualized, and compassionate care. He strives to get to know each of his patients on a personal level to create a comfortable and trusting environment for them to receive high-quality care. He is an active member of several professional organizations, including the American Dental Association. For questions or to schedule a routine checkup and cleaning, visit Berquist Family Dentistry's website or call 219-226-0544.