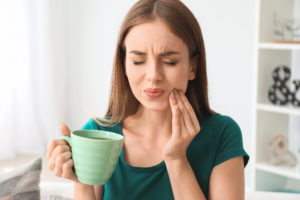 There is never a good time to have a toothache. From the bustling businessperson to the on-the-go artist, it seems as though we are all constantly in demand. The last thing you want is to be called away from your next big opportunity because of a pain in your mouth. Tooth pain often comes suddenly and may not have a cause that is easy to deduce without the help of a dental professional. Your emergency dentist in Whiting is here to help. After you've scheduled an emergency visit with your dentist, there may be short term solutions to help you get by until your appointment.
Not All Pain is Created the Same: Understanding Types of Toothaches
The mouth is just as complex as the rest of your body, and there are numerous reasons as to why you may feel pain. If you are experiencing ANY sort of pain, it is very important to schedule an appointment with your dentist quickly.
After scheduling your appointment, understanding some of the various causes of tooth pain may help to ease any apprehension you have and give you a better understanding once you have received a diagnosis from your doctor.
Some of the main types of pain that people experience are:
• Sensitivity to Temperature
• Constant, Dull Aching
• Persistent, Extreme Pain or Inflammation
Why is Ice Cream Hurting My Teeth?
It is not uncommon for teeth to be affected by sudden changes in temperature and the causes are often relatively mild. Through vigorous brushing or gradual gum recession, the roots of your teeth, which are much more sensitive to hot and cold than the rest of your teeth, can become exposed. While these are usually dealt with rather simply, it is important to consult your dentist as your sensitivity may be the result of larger problems. A toothache may sometime be accompanied by swelling or facial tenderness and may indicate that you have an infection or an advanced abscess.
Well, This is Annoying
The most frequent types of toothaches aren't debilitating or severe. More often than not, they're dull and may be caused by cracks or abscesses in your teeth. These may be managed in the short term by treatments that you can receive over the counter. However, these should not replace a consultation with your doctor. In dentistry, if you are feeling any pain at all then your problem might already be advancing. When tooth pain becomes debilitating, it is especially important to call your dentist as soon as possible.
Regardless of the underlying conditions, a dental provider worth their salt will educate you, get you out of pain as soon as possible, and get you back on track to doing the things that flavor your life.
About the Author
Dr. Jordan Berquist has a compassionate approach to dentistry. He understands that his patients are busy people and wants to both get them out of pain and improve their oral health. He is a member of numerous national and Indiana-based dental organizations and takes great pride in providing the latest in dentistry to his community. If you ever think you may be having a dental emergency, contact his office to learn more.