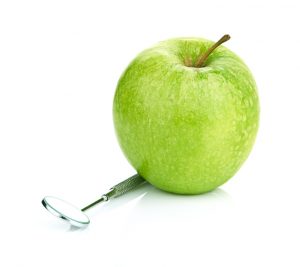 The bacteria in our mouths love processed sugars and carbohydrates. Tooth decay and gum disease often result. Besides avoiding these dietary choices, what can you eat to protect your teeth, gums and bone structure? Dentists in Whiting, Dr. Daniel Berquist and Dr. Robert Berquist, suggest foods that actually confer great protection. When combined with at-home brushing, flossing, in-office exams and hygienic cleanings, proper diet builds a lifetime of healthy, attractive smiles.
What You Eat Impacts Your Well-being
The dedicated team at Berquist Family Dentistry wants to improve each patient's quality of life in  by preventing gum disease, tooth decay and other oral health issues. They teach patients of all ages that diet plays a significant role in tooth and gum health.
The science behind dental health is pretty straightforward. The sugars and starches we consume deposit harmful residue on our teeth. This residue creates sticky plaque which mineralizes into  tartar when not removed by at-home and in-office oral hygiene. Within plaque and tartar is a microbe called Streptococcus mutans. This microbe secretes acids which create dental cavities and lead to the inflammation and infection we call gum disease (gingivitis and periodontitis).
The Best Dietary Path
In addition to avoiding sugar and starches and practicing good dental hygiene, there is a way to promote vibrant smiles through what we eat and drink. Here are some suggestions from Dr. Robert Berquist and Dr. Daniel Berquist.
Consume more dairy products. Drink milk, eat yogurt and enjoy cheese for their high calcium content. Hard cheeses cleanse tooth surfaces and gums and buffer acidic foods such as tomato sauce which can soften tooth enamel. Current research indicates that the probiotics in yogurt decrease plaque formation.
Drink eight glasses of water every day. Water rinses your teeth and gums, freshens your breath, hydrates, and stimulates saliva production. Saliva contains beneficial enzymes which break down foods and neutralize acids.
Eat five servings of fibrous fruits and vegetables daily. Fruits and veggies remove plaque and tartar. Kale and spinach contain calcium, folic acid and Vitamin B. Add them to salads and sandwiches. Apples and carrots are very fibrous and actually brush your teeth.
Lean meat, poultry and fish provides protein. Protein supports your gums. Healthy gums keep teeth and jaw bones stay dense and sizable.
Snack on nuts and seeds rather than chips and candy. Almonds, cashews and sesame seeds have a wide range of vitamins, and they neutralize acids in the mouth and stomach.
Chew gum. Yes, sugarless gum actually helps your tooth enamel stay strong because of an ingredient called xylitol, says the American Academy of Pediatric Dentistry. Xylitol is a natural sugar substitute. Enjoy your gum for at least 20 minutes to reap the full anti-cavity benefit.
Achieve Your Best Smile/
Learn more about eating right for optimal dental health by scheduling your semi-annual check-up and hygienic cleaning with Whiting dentist, Dr. Berquist. Contact Berquist Family Dentistry today to speak to a friendly staff member.