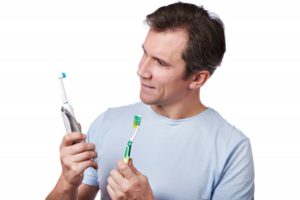 When you walk through the oral care aisle, do you ever notice the electric toothbrushes and wonder "Is this better at cleaning my mouth?" If so, you are not alone. Many patients ask your dentist in Whiting if it's worth it to switch to the higher-end solution for practicing good oral care, or whether it makes little difference to spend the extra cash.
According to him, proper oral care comes down to technique. Here's what you can expect from both solutions.
Many People Don't Practice Proper Technique
The toothbrush that's right for you can vary on a few different factors. While preference is one, it can also depend on the technique you use. Unfortunately, many patients don't practice proper technique when brushing at home. This results in insufficient brushing and only increases the risk of developing tooth decay and gum disease.
Technically, both types of brushes are perfectly ideal for removing plaque that causes dental disease. However, if you find brushing to be particularly difficult or tedious, you'll want to consider the following pros and cons of both before making a decision.
What to Expect from Manual Toothbrushes
The manual toothbrush has been around for thousands of years and helped keep many generations of mouths clean. The first modern toothbrush was created in the late 1700s and it hasn't changed too much since then, other than the material and softness of the bristles.
Manual toothbrushes are cheap, available in a wide variety of styles, easily replaceable, require no batteries or charging stations to use, and very portable. Of course, some people may have difficulty using them if they have a medical condition, such as arthritis or a physical disability. They also require proper brushing technique to use effectively, so you should ask your dentist what the best tips are for being as thorough as possible.
How an Electric Toothbrush Compares
With that being said, electric toothbrushes are better for more individuals because most people don't know what proper technique looks like, nor do they bother to learn. An electric toothbrush is easier to use in more situations, even though they only give patients a slight advantage over manual brushes, at least according to the American Dental Association (ADA) and Consumer Reports.
Electric toothbrushes are ideal for patients who:
Are still learning to brush
Have dexterity issues, including children, seniors, and people with disabilities
Find brushing tedious and want to make it more exciting without much effort
Of course, electric toothbrushes are easily 10 times the price of a manual toothbrush, require charging, and are not easily replaceable.
Regardless, what really matters most is not the toothbrush, but the person holding it. If you're still not sure which brush is right for you, schedule an appointment with your dentist today!
About the Author
Dr. Daniel Jordan Berquist earned his DDS degree from the Indiana University School of Dentistry. He's also a member of the ADA, the Academy of General Dentistry, and the Dental Study Club of Northwest Indiana, which helps him stay updated on the latest techniques and technologies in dentistry. To learn more about his practice, contact him through his website.