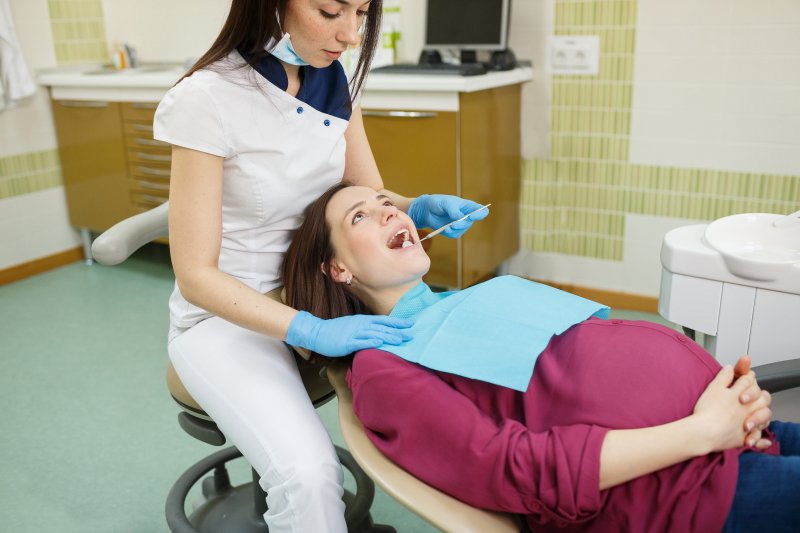 The average person wouldn't associate pregnancy with dentistry. The former conjures images of hospital rooms, babies, and Lamaze classes, while the latter makes someone think of teeth and dentist chairs. What could these two things have to do with one another?
Well, among other connections, pregnancy impacts your oral health. To see how, here are three oral conditions that can occur while you're pregnant as described by a dentist in Crown Point.
Increased Risk of Tooth Decay
Pregnant women may be more prone to cavities for several reasons.
One would be due to eating more carbohydrates than usual. The associated morning sickness can increase your mouth's exposure to acid, eroding your tooth enamel. Gastric acid can have the same effect on your teeth if you have heartburn or acid reflux.
Similarly, hormonal changes can increase the natural acidity in your mouth, leading to an increase in cavities.
Pregnancy Gingivitis
Some shifts in hormones can cause pregnant women to develop "pregnancy gingivitis," an inflammation of the gums that can cause swelling and tenderness.
At first, the condition may only lead your gums to bleed a little when you brush or floss. Left untreated, however, gingivitis can develop into more severe forms of gum disease. Knowing how bad gum disease can become, your dentist may recommend more frequent cleanings to prevent it.
Pregnancy Tumors on Gums
Occasionally, pregnancy can trigger the overgrowth of tissue called "pregnancy tumors," which can appear on the gums during the second trimester. Rather than cancer, fortunately, the overgrowth only amounts to swelling between teeth.
Some specialists believe these 'tumors' are related to excess plaque. What's known for sure is that they bleed easily and have a red, raspberry-like appearance. They usually disappear after your baby is born, but you can always talk to your dentist about removing them.
Tell Your Dentist About Your Pregnancy
Even if you only think you might be pregnant, tell your dental office about it for safety reasons. Let them know how far along you are when making your appointment, for instance. In addition, list any medications you're taking or advice you've received from your physician. If your pregnancy is high-risk, your dentist and your physician may recommend that treatment be postponed.
Beyond the above precautions, though, it's generally safe to see your dental professional for teeth-cleaning or dental X-rays while pregnant.
At home, keep up your routine dental care, including the following practices:
Limit sugary foods and drinks
Brush twice a day with a toothpaste containing fluoride
Floss daily
Taking a little extra care of your smile will do both you and your baby a lot of good in the coming months. Be sure to keep an eye on your teeth and gums even as you prepare for your future bundle of joy!
About the Practice
Berquist Family Dentistry is based in Crown Point, IN. Headed by the father-son team of Drs. Daniel and Robert Berquist, the practice emphasizes exceptional dental care. The dentists and staff believe in one-on-one, personalized care that meets unique patient needs. They also prioritize flexible scheduling that allows appointment times for all family members. For more information or to schedule an appointment, the team can be reached at their website or by phone at (219)-226-0544.