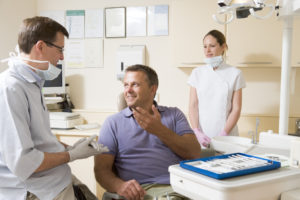 If you're missing a single tooth or a complete row of teeth, your dentist probably recommended a dental implant supported tooth replacement plan. Dental implants allow dentists to replace a lost tooth from the roots up, mimicking natural structure. It's no surprise dentists are all for dental implant restoration. Unfortunately, many patients are worried about the cost. While the initial investment is a little higher than other restoration options, the end result is a replacement tooth or teeth that will likely last the rest of your life and function just like your natural tooth. The goal of a good dentist is to provide clarity in pricing, affordable treatments, maximized dental insurance, and financing options. Before you get started with your tooth replacement plan, read this post where we outline some of the factors that impact the cost of dental implant placement and restoration.

1 – Your Dentist's Experience
You want an experienced dentist or oral surgeon to place your dental implant. This ensures your safety and increases your chances for successful dental implant placement. However, that experience may raise the number on your implant price tag. We truly think paying a little more for safety and experience is well worth the investment.
2 – The Quality of the Implant & Other Materials
Many patients don't know that there are a variety of materials available to craft every part of your implant supported tooth replacement. The implants themselves were traditionally made from titanium because this is the metal most often used in bone healing procedures, but now, you can receive implants made with a variety of metals and non-metal materials. Additionally, the abutments that attach the implant and replacement teeth are crafted from numerous materials as are the replacement teeth themselves. Ask your dentist to review all of your options, the costs, benefits, and disadvantages before you get started with treatment.
3 – Preparatory Treatments
Before your dental implants and replacement teeth are placed, you may need to have one or more teeth extracted or receive a tissue grafts. These preparatory treatments are additional costs, but they improve the chances for successful, long lasting implantation.
4 – Sedation Dentistry Options
During preparatory treatments and the dental implant placement, you will likely want to receive some level of dental sedation to keep you comfortable. This can add to the cost of your treatment, but in some cases, insurance will cover part of this cost.
5 – Dental Insurance
Unfortunately, dental insurance providers are notoriously behind the times when it comes to covering new or innovative procedures. With decades of successful dental implants, this procedure isn't necessarily new or innovative, but insurance providers still aren't recognizing it as a necessary treatment. However, other parts of your treatment plan will receive insurance coverage, and a good dentist will help you maximize these benefits. Your preparatory procedures, replacement teeth, and sedation may all receive some coverage from your insurance plan.
Meet the Drs. Berquist
At Berquist Family Dentistry, we offer dental care from our family to yours. Our father-son dental team, Robert Jordan Berquist, DDS and Daniel Jordan Berquist, DDS, pride themselves on offering gentle, attentive dentistry services to keep Crown Point dental patients smiling. If you're in need of an advanced treatment like dental implant supported tooth replacement, we will take the time to clearly outline the cost of each part of the treatment plan. Our team will answer any questions you have, provide accurate estimates for any dental insurance coverage, and work with you to budget for the cost of treatment. We truly consider ourselves to be your dental care partners. If you have any questions or want to schedule a dental implant consultation, call Berquist Family Dentistry today. We can't wait to see you.