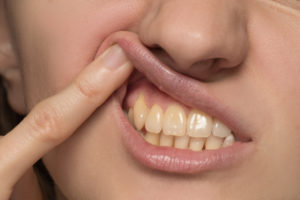 Even if you are a germaphobe who bleaches every surface in your home daily and frequently applies antibacterial hand cleaner while exploring the sights at Navy Pier with thousands of your closest friends, you can't avoid this truth: You carry some of the worst bacteria with you everywhere you go!
With more than 600 different types of bacteria that make their home on your teeth, gums and throat, your mouth is the dirtiest place in the human body. And the worst offenders are those that hide below the gumline where you can't see it. Here's what your dentist in Crown Point advises you to do about it.
Understand What You're Up Against
The good bacteria in your mouth is vital for digestion, immune function and other health factors, but the bad bacteria wreak havoc on your teeth. They feed on the sugar and starches you eat, producing acid that softens enamel or steadily manufacturing the sticky plaque that quickly hardens to tartar.
The end results? Bad breath, infection, inflammation, tooth decay and gum disease.
Your Best Defense Against Bacteria Below the Gumline
The good news is that much of what you do for the general presence of bacteria in your mouth will also help below the gumline. That includes:
Brushing two times a day with a fluoride toothpaste.
Flossing daily.
Using a mouthwash.
Adding a water flosser to your regimen – they're especially effective around crowns and bridges.
Changing your toothbrush every 3 months.
Having regular dental exams to prevent or remove plaque and tartar accumulation below the gumline.
Reducing your sugar consumption – bacteria thrive on it!
The How Matters, Too
Some people do a cursory swipe and swish and call that good oral hygiene. To make sure you're actually removing bacteria, be sure to:
Brush for at least 2 minutes.
Don't scrub your gums – it can leave scratches that provide a place for bacteria to hide.
Consider an electric toothbrush – they do a better job of cleaning gums and teeth.
Hold your brush at a 45-degree angle to your teeth and brush gently toward the gums.
Use gentle pressure when flossing to avoid bleeding, which can promote infection.
While the fight against bacteria in your mouth is an ongoing concern, keeping it at bay is one of the simplest preventive measures you can take to keep your mouth healthy. Stay on the alert for bacteria-causing habits and see your dentist regularly, and you'll be the victor in this contest.
About the Author
At Berquist Family Dentistry, father and son dentists Dr. Daniel Berquist and Dr. Robert Berquist have teamed up to keep it all in the family. That goes for yours, too. Children, parents and seniors are all welcome to keep their smiles healthy in this convenient and comfortable environment. Contact them at (219) 226-0544 to explore all the ways they can solve your dental issues…even before problems start. Your teeth will thank you!