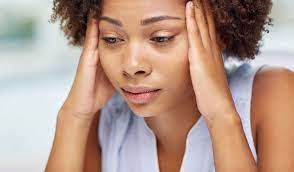 In small doses, stress can motivate you to succeed at tasks, boost your brainpower, and can even make your immune system stronger. Unfortunately, when stress becomes chronic, consistently feeling overwhelmed can lead to serious health issues, such as anxiety, fatigue, high blood pressure, and heart disease. Chronic stress can also cause a lot of damage to your oral health. Continue reading to learn how chronic stress effects your oral health and how to prevent it.
Chronic Stress & Oral Health
Chronic stress can take a big toll on your oral health if it's left untreated. Adrenal glands are small, triangular-shaped, and located on top of both kidneys. They produce a steroid hormone called cortisol, which helps regulate your body's stress response. Cortisol can also impair the immune system function, which can raise one's risk of developing gum disease.
The Journal of Periodontology hosted a study and found that 56% of participants with chronic stress also did not brush and floss the recommended amount. Additionally, they were much more likely to smoke cigarettes and practice other harmful dental habits. Patients with chronic stress also develop cold sores, tooth decay, and teeth grinding more often than those without it.
6 Ways to Prevent These Oral Health Issues
Though chronic stress and oral health don't mix well, there are a few ways you can lower your risk of encountering smile problems, such as:
Practice relaxation techniques – This includes meditating, getting a massage, yoga, aromatherapy, listening to calming music, and deep breathing. You can also engage in relaxing hobbies and activities, such as reading, writing, making art, or gardening.
Eat a tooth-healthy diet – This includes nuts like almonds and Brazil nuts, low-fat and fat-free dairy, lean meat, fish, and fresh fruits and vegetables. These foods give your smile the vitamins and nutrients it needs to stay strong and healthy.
Get enough sleep – Sleeping seven to nine hours each night will help keep you well-rested and your immune system strong.
Exercise regularly – Working out can help improve your quality of sleep. This is beneficial in lessening your stress levels.
Brush and floss – Brush twice and floss once each day to lower your chances of developing oral health problems like gum disease and cavities.
Visit your dentist – See your dentist biannually for dental checkups and cleanings. This will allow them to identify and treat oral health problems as soon as possible. If you're grinding your teeth as a result of chronic stress, they can also have a custom mouthguard made to protect your pearly whites.
It can be difficult to manage chronic stress, but the above tips should help. This can lessen your risk of dental health problems so you can keep your smile in good condition!
About the Practice
The smiles of Crown Point are in good hands with Dr. Daniel Jordan Berquist, Dr. Robert Jordan Berquist, and their exceptional team of oral health professionals at Berquist Family Dentistry. They administer a variety of dental treatments and can give patients advice on how to better care for their smiles. They can also teach you about the connection between chronic stress and oral health so you can protect your pearly whites from harm. To set up an appointment or for more information about their many treatment options, call Berquist Family Dentistry's dental office at (219) 226-0544 or visit their website.