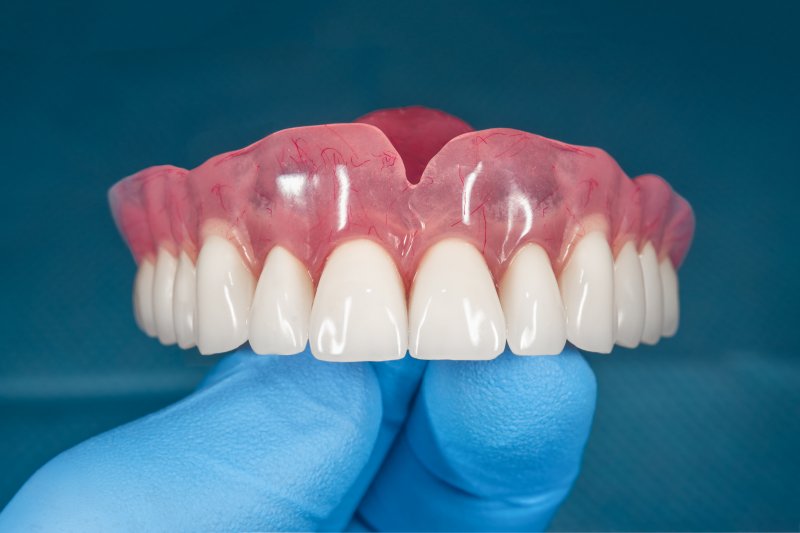 Dentures represent a fairly popular way of restoring your smile, but they still attract some untrue gossip and rumors. Depending on who you ask, these prosthetics are either perfect substitutes for natural teeth or worse than having no pearly whites. However, the truth about them is somewhere in-between. To help you see dentures in Crown Point more clearly, here's a summary of four myths about this treatment.
"Once I Get Dentures, I Won't Need a Dentist Anymore"
Even if you have false teeth, keep seeing your dentist so they can assess your oral health.
After all, dentures themselves can sometimes cause dental issues. For instance, cheap ones sometimes trigger sore spots due to uneven pressure. Dentures can also result in a dry mouth for some people. Some wearers can even develop oral infections. Needless to say, you'll want a dentist to diagnose and treat such problems.
"Dentures Last a Lifetime"
While it'd be great if they lasted your whole life, dentures are temporary appliances. With proper care, most will only work for 5 to 8 years; cheap ones tend to last an even shorter time. Plus, a poor fit can lead to faster wear and tear that breaks a denture quickly.
Even quality models can wear out from repeated biting and chewing. High-quality implant dentures may endure for 30 years or more, but you'll likely replace them at least once in your lifetime.
"Dentures are Effortless"
No matter how effective a denture may be, you'll still need to care for it alongside your gums and tongue. Your mouth will still collect harmful mouth bacteria over time. That said, it's important to clean your false teeth twice daily just as you would your natural ones. In other words: brush them, floss them, and soak them overnight.
"Denture Fit Problems Can Be Fixed with a Reline"
While denture relines can help with some issues, they can't fix everything. In particular, a reline won't help if your prosthetics don't fit each other or if they weren't fitted well originally. If you want to have well-fitting dentures, you should get a good fit the first time.
Dentures aren't flawless, but they're still an effective treatment that can give people great smiles. Talk to your dentist to see if these prosthetics could do the same for you!
About the Practice
Berquist Family Dentistry is based in Crown Point, IN, and serves patients of all ages. When you come to them for dental care, you can expect compassionate service from a dedicated team. The practice's treatments span preventive, cosmetic, and restorative dentistry, even including emergency procedures. Whether you need a dental checkup or dentures, they'll give you the healthy smile you deserve. To learn more information or to book an appointment, they can be reached at their website or by phone at (219)-226-0544.