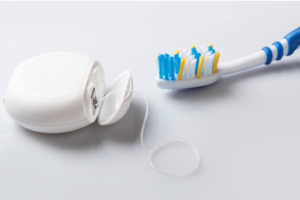 You know that brushing and flossing are the most important things that you can do for your dental health each day. But how do you know which one you should do first? Does it really matter the order in which you clean your teeth? Continue reading to learn more about what your daily oral hygiene routine should look like from your family dentist in Crown Point.
Should I Floss or Brush First?
Recent studies have shown that flossing before brushing may be the best option when it comes to your dental hygiene routine. By flossing first, you are dislodging trapped food debris and bacteria which makes brushing more successful. Doing this also has been shown to increase the fluoride concentration delivered from the toothpaste, therefore strengthening your enamel.
Brushing alone only cleans 3 of the five surfaces of your teeth, therefore leaving the other surfaces more vulnerable to tooth decay and other issues. By taking the step of flossing beforehand, you are guaranteeing a more thorough clean.
What Is the Proper Way to Floss?
Flossing should be done at least once daily to remove food debris and plaque from your teeth. This is crucial when preventing cavities and other oral health problems. To brush properly, do the following:
Break off about 18 inches of floss and wind it around your fingers leaving about an inch or two to spare.
Hold the floss using your thumbs and index fingers and gently slide it between your teeth using and up-and-down motion.
Ensure that you curve the floss around the base of your tooth and go beneath the gumline but be careful. You don't want to damage your gums.
Use a new section of floss between each tooth. This helps to avoid the spread of food debris, plaque, and bacteria.
How Should You Be Brushing Your Teeth?
You should be brushing your teeth at least twice daily using a soft-bristled toothbrush and fluorinated toothpaste. In order to brush properly, take the following steps:
Apply a pea-sized amount of toothpaste to your brush.
Place your brush at a 45-degree angle to the gums.
Move the brush back and forth using short strokes.
Be sure to get the front, back, and chewing surface of each tooth when you are brushing. Missing areas can lead to plaque build-up and tartar, which is difficult to remove without the help of your dentist or hygienist.
Brushing and flossing properly and in the correct order is extremely important for the health of your smile. Be sure to see your dentist in Crown Point twice a year for cleanings. Doing so helps to ensure that you are properly maintaining your teeth and will be able to show them off confidently for years to come.
About the Practice
Dr. Daniel Jordan Berquist and Dr. Robert Jordan Berquist work together to provide gentle and professional dental care to their patients. Dr. Daniel Berquist earned his D.D.S at the Indiana University School of Dentistry and is a member of numerous professional organizations including the American Dental Association and the Indiana Dental Association. Dr. Robert Berquist earned his D.D.S from the Loyola Dental School in 1989 and has been serving Northwest Indiana and the Chicago area ever since. For more information, visit their website or call (219) 226-0544.