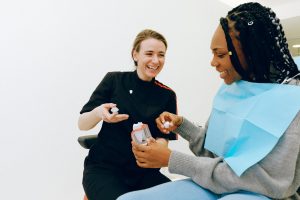 Your enamel is the hardest substance in your body, but it isn't indestructible. If a tooth suffers extensive damage, you may need a dental crown to save it. A custom-made cap is bonded over the entire surface of a tooth above the gum line to restore its health, function, and appearance while also giving it an added layer of protection. Dental crowns in Crown Point are versatile because they can offer more than just restorative benefits. Whether used alone or along with another procedure, you have multiple options to choose from when selecting a material for your restoration. Here's what you need to ensure you're satisfied with the results.
Restore a Beautiful Smile
According to the American College of Prosthodontists, a single dental crown is the most common restorative procedure. While it's an effective treatment, it's only recommended when there aren't any other options to save a tooth, such as under the following circumstances:
Protect a weakened tooth from breaking.
Repair a large area of decay.
Fix a chipped or cracked tooth.
To support a dental bridge.
After root canal therapy.
Along with a dental implant.
Types of Materials for Dental Crowns
When envisioning a crown, you might see a dark metal cap covering a tooth. Although silver was commonly used in the past, crowns can be crafted from various materials, including:
Gold
Gold is very durable and offers the least reactivity when used in the mouth. It's considered gentle on opposing teeth, making it suitable for patients who have a habit of grinding and clenching. You can enjoy long-lasting results; however, gold is often recommended for the back teeth because of cosmetic concerns.
Full Porcelain
Modern restorations are often made of full porcelain because it provides natural-looking results. Besides its realistic appearance, it doesn't conduct heat or cold. It's also a biocompatible solution. Although no metal is used, porcelain is durable to last for many years with the right aftercare, like committing to your oral hygiene.
Porcelain-Fused-to-Metal
Layers of materials are used for porcelain-fused-to-metal crowns. They have a metal core that's covered by a thin layer of porcelain. They are more durable than full porcelain, but they can be an issue for patients with metal sensitivities.
Full Zirconia
The diamond-like stone is ideal for patients who have difficulties with other materials. It's just as strong and durable as gold while being more aesthetically pleasing when used on the front or back teeth.
Your dentist in Crown Point will explain all your options to make the best choice for your needs and preferences. You'll enjoy a high-quality crown that can serve you for a decade or longer.
About Dr. Danial Jordan Berquist
Dr. Berquist earned his dental degree from the Indiana University School of Dentistry. He is a proud member of various dental organizations, including the American Academy of General Dentistry. He can create the healthy, beautiful smile you deserve using the latest treatments and techniques in dentistry. If you need a dental crown, contact our office today to schedule a consultation.