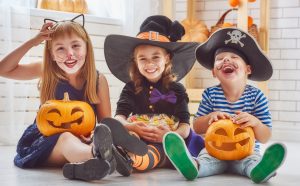 Every child looks forward to dressing up for a night of trick-or-treating. As they hunt down the houses with the best candy and check out spooky decorations, they can be at risk of dental problems if you aren't cautious. Halloween can come back to haunt your little one's oral health. They don't have to miss out on the festivities to safeguard their teeth and gums. Here are 6 easy tips to keep their mouth healthy.
1. Avoid Sticky Candy and Treats
Believe it or not, not all candy is viewed as equal in the eyes of your child's pediatric dentist. Sticky candy and snacks contain a lot of sugar and cling to their teeth. The longer food residue sits on their teeth, the more likely it will erode their enamel.
2. Avoid Hard Candy
Hard candy isn't any better for multiple reasons. They must hold it in their mouth for several minutes to allow it to dissolve, which bathes their teeth in cavity-causing residue for longer. Crunching it isn't any better because it can break or fracture a tooth. The last place you want to spend Halloween is at an emergency dentist.
3. Choose Dark Chocolate
Dark chocolate is recommended by pediatric dentists because it's less likely to linger in the mouth. It rinses away more easily than taffy, caramel, and other sticky sweets.
4. Eat Candy at Mealtime
Your child should eat candy with a meal because they'll have increased saliva production. This will help cleanse their teeth from sugary residue to preserve their pearly whites.
5. Brush and Floss
Although your little one might be tired after a long night of trick-or-treating, they must brush and floss their teeth before going to bed. Skipping their nightly routine will allow bacteria to get out of control quickly, raising their risk of tooth decay.
6. Stay Hydrated
It's easy for your child to get dehydrated while walking the neighborhood. Encourage them to drink plenty of water to stay hydrated. This will also rinse their mouth in between brushing and flossing to keep their teeth and gums healthy. It will keep their mouth moist to combat harmful oral bacteria growth.
You don't have to worry about hearing any scary news the next time your child visits their dentist by keeping their oral health a priority on Halloween.
About Dr. Danial Jordan Berquist
Dr. Berquist earned his dental degree from the Indiana University School of Dentistry and has regularly pursued advanced education to provide specialty services, including pediatric dentistry. He offers compassionate dental care for patients of all ages. Contact his office through his website or call (219) 227-6989.