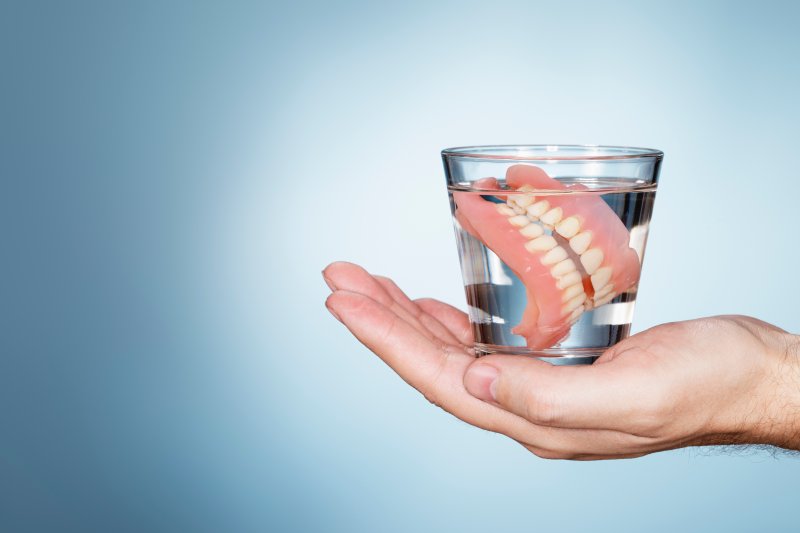 Dentures can be a life-changer for patients who are missing teeth. Being able to eat, talk, and smile confidently can make a world of difference.
That said, the trade-off is that you'll have to take care of dentures well if you want them to hold up for a long time. In doing that, there are some fairly common mistakes that it would be a good idea for you to avoid. Here are a few examples.
1. Not Cleaning Them
When you get your dentures, you may not be sure how to keep them clean, or if that's even necessary. However, just like your natural teeth, it's crucially important to clean your dentures every day to prevent bacterial buildup.
The easiest way to do this is with a denture-cleaning solution, which you can either get from your dentist or at any pharmacy. Brushing your dentures lightly with a soft toothbrush can be equally useful—just don't use toothpaste, as this can damage the surface of your prosthetic.
2. Cleaning Them Improperly
The other mistake you can make, besides not cleaning your dentures at all, is cleaning them in the wrong way. As was mentioned a moment ago, you should avoid using toothpaste or a hard-bristled brush on your dentures.
Hot water can also be a real problem, as it can potentially cause your dentures to warp. You should only use lukewarm water for your denture cleaning solutions, and never run your dentures through the dishwasher.
3. Wearing Them to Bed
Removable dentures use your gums as a foundation, which can put a lot of pressure on your soft tissue. If you don't give your gums a break, you may develop uncomfortable sore spots on your gums that make your dentures hard to wear. The dentures themselves also need to be aired out and could do with a thorough overnight cleaning.
You should make a habit of taking your dentures out before bed and leaving them to soak in a denture-cleaning solution. This will not only give your gums time to rest, but also ensure that your dentures remain nice and clean.
About Our Practice
At Berquist Family Dentistry, we pride ourselves on offering gentle, compassionate care informed by years of experience in our field. Father and son team Drs. Robert and Daniel Berquist will work together to ensure that every patient we see gets the time and attention they deserve. They will talk to you about your goals, and then partner with you to develop solutions that you're happy with.
If you have any questions about how to take care of your dentures, we can be reached at our website or by phone at (219) 226-0544.